Aiming to reach a younger and predominantly female market while maintaining the company's strong image, Jack Daniel's launched a multi-city marketing campaign with its latest whiskey, Tennessee Honey. mixMotion was asked to create custom visuals for the Tennessee Honey official launch party at the Andrew Richard Designs space in Toronto. A key challenge was having their iconic honey bee literally flying around the room, circling the patrons.
Utilizing all of the windows in the event space, an all-encompassing environment was established, with Jack Daniel's brand images changing throughout the night. To accomplish this, flipping cards with bees the colour of the Tennesse Honey palette were staggered on various windows at different speeds. A multi-projector networked installation was used in order to create the impression of the bees flying from one window to the next.  Images of Jack Daniel himself, a honeycomb and barrel were accompanied by a cover of Slim Harpo's classic song, "I'm a King Bee".
With the tagline, "A little bit of Jack, a whole lot of honey," one of Jack Daniel's main goals was to inform their younger audience through digital media. Targeting the millenial demographic, Tennessee Honey was the first campaign that Jack Daniel's promoted using Twitter. mixMotion incorporated the many facets of digital media into the event, creating a captivating and diverse show.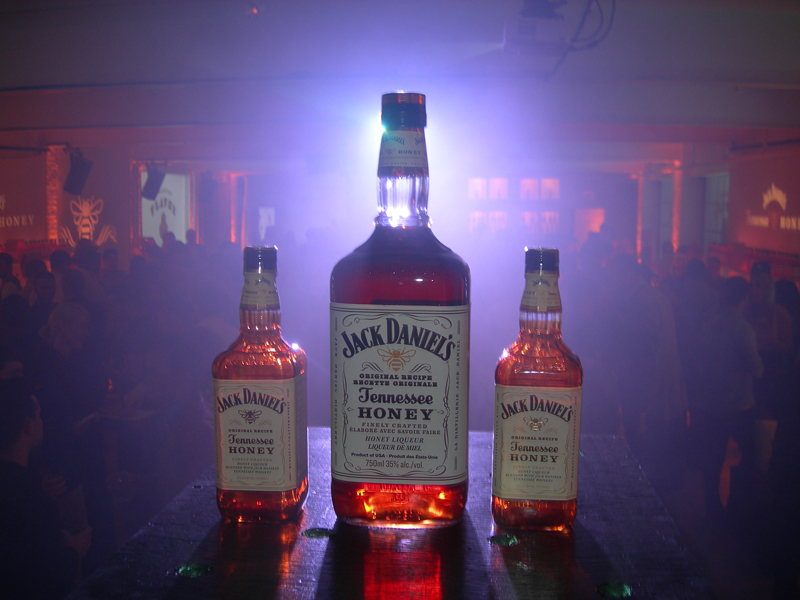 The result was an exciting moment for Jack Daniel's that kicked off a night of whiskey tasting and dancing in a beehive-like atmosphere. The content that mixMotion created was later used for the Montreal-launch of Tennessee Honey.